530 120L O-RIng Chain Kawasaki Z650 ZZR ZXR 750/1100/1200 VN VULCAN 800 GPZ 900
SKU:TF156#
Tax included.
Shipping
calculated at checkout.
---
---
Motorcycle ATV  HD Drive Chain Gold 530 120L  O Ring 
Specifications:
Pitch distance  : 
15.875 mm 
Features: 
Quality engineered for strength and durability with 8200 lbs. tensile strength
Roundness compatibility reduces friction and extended life chain
Distinctive color helps prevent corrosion; 
Chain can be easily shortened using a chain breaker or a bench grinder and punch to fit your need
 If you don't know 

what size drive chain your motorcycle needs  , please check the application chart Below .
What way do motorcycle chain sizes work?
Generally sizes are described as 'pitch by length'.
For example 520-118 - this has a pitch of 520 and is 118 links long.
What does 'pitch' mean in relation to a drive chain?
It's actually the distance between the chain pins.
How do I know what size my chain is?
Most motorcycle chain brands stamp the size here.

 

Why are o-ring (and X) rings chains better than heavy duty ones?

The o-rings keep the lubricant contained which reduces wear on the chain - therefore your chain lasts way longer!

X-rings are one step better again at retaining lubricant.

How often should I lube my motorcycle chain?

For road bikes suggest every 300-500 miles.

For off-road/motocross bikes it's much more regular as the conditions will strip the chains dry.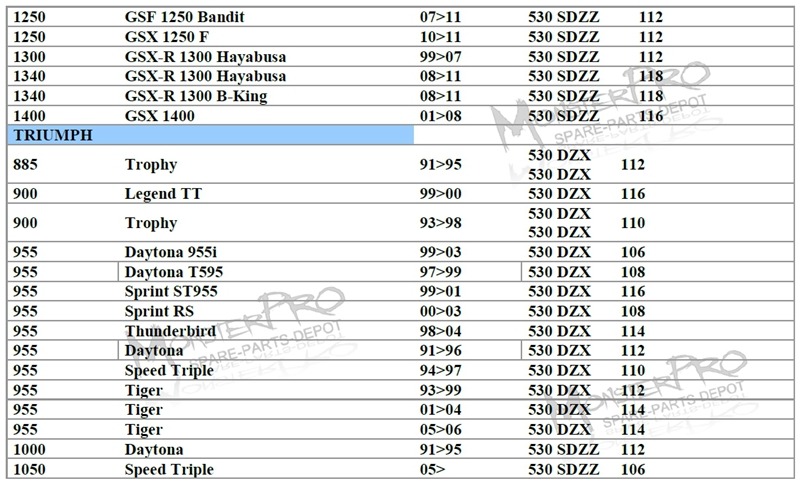 ---
We Also Recommend
---